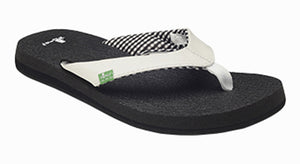 The Yoga Mat by Sanuk is a classic flip flop with a twist. 

You will feel like you haven't missed a single pose in yoga class with this Sanuk favorite, the women's Yoga Mat flip flops.  

And yes, they are made out of real yoga mats.   Upper made out of synthetic leather with a jersey lining.