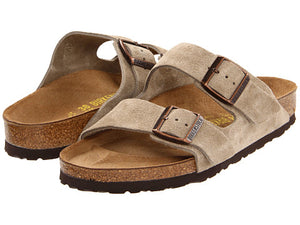 Relax and slip into the comfort that is the Birkenstock Arizona footbed, your feet will thank you! Anatomically correct cork narrow footbed crafted from cork that is 100% renewable and sustainable, and encourages foot health. 

The suede lined contoured footbed will mold to the shape of your foot creating a custom footbed that supports and cradles you each and every step. 

The raised toe bar is designed to encourage the natural gripping motion of your feet, exercising your legs and aiding circulation.