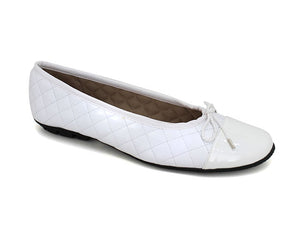 Cozy ballet flats are made by Paul Mayer Attitudes in Spain.  This flat is the essential shoe from Paul Mayer. 

They are made of a very soft leather that's quilted and have a patent leather toe. 

The bow is not just for looks, it actually tightens or loosens the shoe for a personalized fit. 

Features a padded insole and flexible rubber outsole for all day comfort.

For a better fit, size down 1/2 size from your normal shoe size.